Cancer Foundation Makes Large Donation to ULM
Louisiana Cancer Foundation supports ULM breast cancer research with $10K donation.
For 13 years, the Louisiana Cancer Foundation has financially supported breast cancer research at the University of Louisiana Monroe with donations totaling $117,500. Tuesday, Dr. Paul Sylvester, Associate Dean of Research in the ULM College of Pharmacy, accepted a $10,000 donation from LCF Executive Director James Adams.
Read the full article here.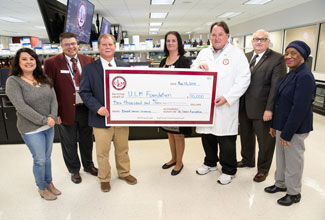 Pictured from left are, Carla Costello, President of the Cancer Foundation League and member of the LCF Board of Directors, Dr. Glenn Anderson, Dean of the College of Pharmacy, Adams, LCF Assistant Director Donna Nolan, Sylvester, Dr. Eric Pani, Vice President of Academic Affairs and LCF Board member Annie Staten.
(Photo by Emerald McIntyre/ULM Photo Services)